Hôtel Dupond Smith
Right in the beating heart of Paris's Marais quarter
A little-known patronym conceals eight bedrooms and suites.
The password for this unique, luxuriously appointed hotel is: confidentiality. The hushed feel of a select club carefully shielded from inquisitive outsiders.
A model of intimate refinement where guests know that they can enjoy complete discretion and one of today's greatest luxuries: choosing to be incognito.
For Dupond-Smith is the ultimate secret, known only to insiders. Those in the know mention it only in quiet whispers, in the presence of like-minded connoisseurs of true luxury – luxury that states its case without ostentation, and stands out from the rest without ever drawing attention to itself.

Hotel Services
Massages
Hôtel Dupond-Smith has arranged for the services of a qualified masseur, who will set up a massage table in your room. Enjoy personalised treatments to get over jet lag, or to relax your back and legs, using a range of Mon Masseur natural wellness products. Ask US to make an appointment for you.
Breakfast
To ensure you enjoy your stay to the full, in complete privacy, Hôtel Dupond-Smith offers a variety of breakfast menus, served in your room from 7 am. This service is available all day at your convenience. Breakfast is also served in the ground-floor lounge during the same hours.
We offer a choice of three breakfast menus:
- Tonic 12 €
- Energy 19 €
- Phlegmatic 25 €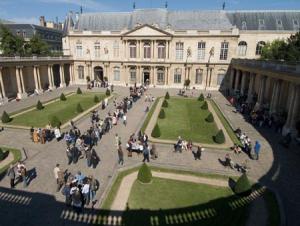 The permanent exhibition at the Archives Nationales Museum presents documents taken from the holdings of the Archives Nationales.
Read more
Hôtel Dupond Smith Paris 4ème arrondissement - Location
For a tailor-made stay in the lap of luxury,that answers your every wishes and desire, right in the heart of secret, secluded Paris the Hotel's team is here to offer expert advice in a whisper.
Find us
Press area
Press realase & photos on request